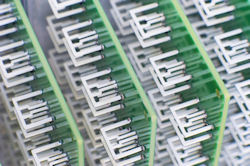 Aereo
has confirmed that the service will launch in Detroit on October 28th.
Currently, it is available in New York, Boston, Atlanta, Miami, Salt Lake City, Houston, and Dallas and a planned Chicago launch has been delayed.
Additionally, the company says it will expand to Columbus, Cincinnati, Indianapolis and San Antonio, but without a timetable.
If you live in Detroit, the counties covered are Lapeer, Livingston, Macomb, Monroe, Oakland, Sanilac, Saint Clair, Washtenaw and Wayne.
The startup's service, which costs $8 per month, allows users to watch free,
OTA
content on any mobile device along with a free remote
DVR
. Aereo does not pay any re-transmission fees as it uses tiny digital TV antennas for each user in its own facilities and links to the streams.
The company has faced significant backlash since launching in 2011. Last year, CBS, NBC, Fox and other smaller broadcasters filed a copyright suit claiming unauthorized access to their content. So far, two federal courts have sided with Aereo and the company continues to expand and innovate.