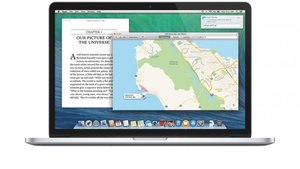 Apple
announced today that there latest operating system update, OS X 10.9 Mavericks will be available starting today.
Best of all, the update is free through the Mac App Store.
As with all OS updates, Apple promises increased speed and battery life efficiency and the update will overhaul the aesthetics to better match that of
iOS
7 and its cleaner design.
In addition, the OS will have an improved notification system, including inline replies, support for multiple monitor and full screen applications, a complete refresh of Finder and a new "iCloud Keychain" to better save your passwords.
Many of the apps have been updated, as well, some adding new functionality.
The update is available to everyone running OS X 10.6 or higher and now leaves
Microsoft
as the only company that charges for their operating system.