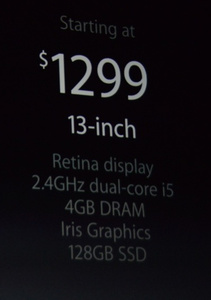 Apple
has significantly updated their MacBook Pro with
Retina display
line of notebooks.
Starting with the 13-inch model, the new laptop is 0.71 inches thick and 3.46 pounds, will be powered by a latest-generation Haswell core 15 processor at 2.4GHz, include 4GB
RAM
,
802.11ac
Wi-Fi, a 128GB SSD and an incredible 9 hours of battery life.
The 15-inch base model will add a Haswell 2.0GHz Core i7 processor, 8GB of RAM, and a 256GB SSD along with new
Intel
Iris Pro
integrated graphics
. Additionally, the device has 802.11ac Wi-Fi and Thunderbolt 2 ports. The notebook will have a very impressive 8 hours of battery life, as well.
With the refresh specs also come some price cuts, as the 13-inch model will start at $1299 and its larger brother will start at $1999.
Apple also says it will begin phasing out non-Retina MacBook Pros completely.