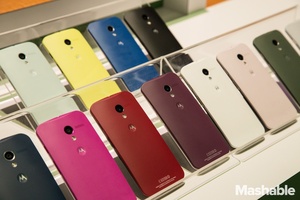 Any interested buyers in the Google Moto X now have the ability to get it cheaper.
The phone is now just $99 on contract
when using AT&T's Moto Maker customization site, or if you are buying from US Cellular or Sprint, as well. If you are moving to US Cellular, the carrier is even adding a $75 gift card, effectively taking the price down to $25.
Verizon has not reduced the price, and AT&T says the standard black and white models still cost the original $199, so it actually pays to customize.
If you need more storage, the 32GB model has dropped to $150, from $250.
It is unclear how well the phone has been selling, as the original price point placed the phone against more powerful competitors, such as the
Galaxy S4
,
HTC
One and the iPhone.