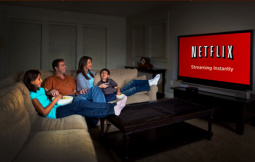 After making huge waves by creating popular original series like 'House of Cards' and 'Orange is the New Black," Netflix is reportedly looking to get into the feature full-length film business with a similar model.
Suggested by Netflix's content head Ted Sarandos, the
streaming
company will back a "big" movie, which would be made available on Netflix on the same day it goes into theaters.
By becoming a first-run distributor like they do for TV and more recently, stand-up comedy, Netflix hopes to attract even more subscribers that may have been off-put by the company's lack of major movies.
"What we're trying to do for TV, the model should extend pretty nicely to movies. Meaning, why not premiere movies on Netflix, the same day they're opening in theaters? And not little movies -- there's a lot of ways, and lot of people to do that [already]. Why not big movies? Why not follow the consumers' desire to watch things when they want?"
added Sarandos
.
Netflix, if they could pull off such a move, would disrupt Hollywood's long-followed windowing system. The movies hit theaters first, then DVD/Blu, followed by video on demand services, and then finally pay TV and Netflix.