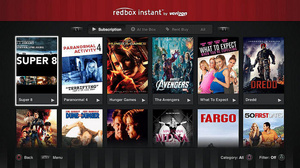 PS3 users in the U.S. can download the new Redbox Instant by Verizon app for their consoles.
The app provides access to thousands of streaming movies. You'll also be able to find and reserve new releases on DVD and Blu-ray at more than 43,000
Redbox
kiosks from your PS3.
At a cost of $8 per month, users get access to thousands of movies available to stream, and four DVD rental nights at the Redbox kiosk, every month. If you want Blu-ray, that'll cost $1 more.
You also have the option to purchase or rent new digital releases on-demand, without needing a subscription, making it a one-stop shop for you to find what you want to watch at any given time.
The PS3 app also has "The Playlist", a specially-curated collection of Redbox Instant by Verizon movies from its subscription movie library, just for you. It will update frequently and will feature themes like "Stuff Blowing Up," "Movies With Balls," and "Beards On Film."