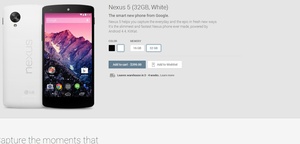 Alongside its announcement of the Nexus 5 today, Google also revealed that the device would be available through T-Mobile and Sprint, marking the first time a Nexus has been available on more than one carrier at launch.
There had been some reports stating that AT&T would also be carrying the device, but Google clarified by saying that the phone works on its network, but the carrier will not sell the device. Verizon also opted out of the device.
In the past, carrier support has been uneven, to say the least. The original G1 was a T-Mobile exclusive, Google's
Nexus One
worked on
GSM
carriers, its Nexus S was a Sprint exclusive (an unlocked version worked on T-Mobile) and the recent
Nexus 4
was available unlocked or through T-Mobile only.
The new device works on nearly all bands, for 2G, 3G and 4G, making it a truly universal device. Sprint and T-Mobile will sell the phone in stores, and it is available through the Google Play store online.
Google's new flagship starts at $349 for a 16GB model.
Read more
here
.