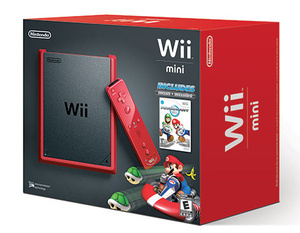 Nintendo has announced that it will launch the Wii mini console in the United States this month, bundled with Mario Kart Wii.
The Wii mini will be available starting mid-November at a a suggested retail price of only $99.99, bundled with the Mario Kart Wii game and a red Wii Remote Plus controller and a red Nunchuk controller.

Wii mini is a redesigned version of the extremely successful 2006 console that claims a library of more than 1,300 games. It is matte black with a red border.

"Wii mini offers the same fun experience as Wii, which has been enjoyed by millions of people around the world," said Scott Moffitt, Nintendo of America's executive vice president of Sales & Marketing.

"And it comes packaged with Mario Kart Wii, a multiplayer Mario racing game that is one of the best-selling Wii games. At such a great price, it is an extraordinary value for shoppers this holiday season."

Since its 2006 launch, Nintendo has sold more than 100 million Wii consoles around the world, beating the pricier Xbox 360 and PlayStation 3 rivals of the currently winding down generation.

At $99.99, the Wii mini is an affordable way for those left who never bought a Wii console to give the platform a try.