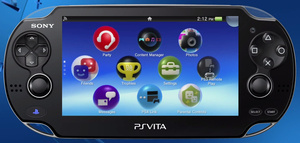 Sony is pushing out a system update for its PS Vita handheld console that includes PS4 Link - letting you connect with your PS4 system when it launches in ten days.
PS Vita 3.0 adds the PS4 Link app to the home screen. Using PS4 Link, you can use your PS Vita to remotely control a PS4 system, and play a range of PS4 games on your PS Vita screen. When you're playing a game on PS4 that supports second screen features, you can also display information from that game on your PS Vita and use it as a second screen. The previous "Remote Play" app on the PS Vita has been renamed to "PS3 Remote Play".

The update also brings improved Parental Controls to the PS Vita. Parents can use it to manage the duration of game play, and the use of games and videos that have parental controls. You can also control access to certain areas of the system, including the use of the Internet browser and Location Data.

Messaging improvements are also part of the update, with the Group Messaging application name and icon changed to Messages. You can now send and receive messages with friends and players on PS4 or on mobile devices installed with PlayStation App. The icon for the Party application has been changed. You can now voice chat and text chat with friends and players on PS4.

PS Vita 3.0 also adds a Panoramic Camera setting, makes improvements to the application layout for Friends and adds support to sync the contacts saved in your email account from services including Gmail and Yahoo! Mail.

Finally, you can also now use Wi-Fi to connect your PS Vita to a PS3, and transfer data between them, as long as they are connected to the same network and the PS3 has been updated to system software v4.50 or newer.