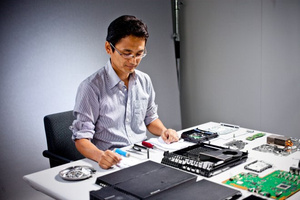 Sony stripped a PlayStaion 4 (PS4) to its motherboard for Wired, showing off the design of its next generation console.
The tear-down - carried out by
Yasuhiro Ootori
- shows off the console motherboard, glimpses of the custom AMD processor and companion chip, the Wi-Fi antenna and so on. The specs of the PS4 have been public for a long time.
What is interesting in the tear-down is it shows how Sony packed the hardware and the power supply unit into such a small space, and how its cooling system will keep it all from overheating.
The tear-down pictures and video show how it moves heat of the relatively slim case (for the first design) using two heat pipes and a custom centrifugal fan.
Of course, once the PS4 is out in the wild we will see far more detailed tear-downs of the system, though we think we'll pass on such experiments with ours.
View pics of the PS4 teardown at:
wired.com
View a video of the teardown at:
wired.com