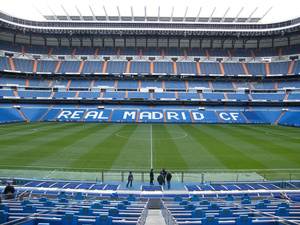 Microsoft are in talks with football giant Real Madrid about potentially acquiring the naming rights to the iconic Santiago Bernabeu stadium.
It is named after the former footballer and President of Real Madrid,
Santiago Bernabéu
, who was President of the club for 35 years and is credited with turning it into a giant in Spanish and European football.
Changing the name of the stadium is guaranteed to face opposition from Real Madrid supporters, but with Real Madrid reportedly close to €600 million in debt, such a deal would be welcoming to the executives at the top.
Real Madrid can afford to splash out up to €100 million - depending on what reports you read - on Gareth Bale and have broken the bank for players in the past, such as Cristiano Ronaldo (£80 million), because the Spanish club has very healthy revenues, with the latest Deloitte Money League report calculating they had become the first football club to break the €500 million revenue barrier.
In Spain, Real Madrid and Barcelona get a much larger chunk of TV rights than others in the La Liga, whereas in other countries it is more equitable between clubs in the top leagues. It also reportedly managed to gain a 30 percent increase in a shirt sponsorship deal with the Emirates airline, whom it switched to from Bwin.
Selling naming rights to the stadium is a whole different game though, because typically the names of grounds have historical significance. In England, for example, Newcastle United sold naming rights for "St James' Park" and renamed it the "Sports Direct Arena." Many fans refused to call it that, and even the local council
refused to change the name of the stadium on road signs
.
For now though, Real Madrid and Microsoft say they are just talking about the possibility and that nothing has been agreed between them.