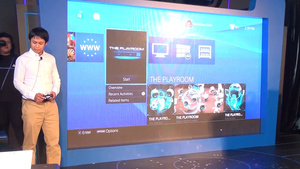 The PlayStation 4 (PS4) UI/Dashboard was shown off at an event in Hong Kong several days ago.
Microsoft has already
shown off the Dashboard of the Xbox One ahead of its November 22 launch
, but even though the PS4 is only days away from its North American released, Sony has not done the same yet.
If you want to take a look at the Dashboard, a video has shown up that shows a demonstration of the PS4 dashboard. It is from a recent Hong Kong event, and is in both Japanese and Cantonese, but the Dashboard itself is very easy to understand.
The video is embedded below, but you should skip to around 4:40 to start the demonstration. Sony will likely provide something more informative in English before Friday.
(VIA:
Kotaku
)