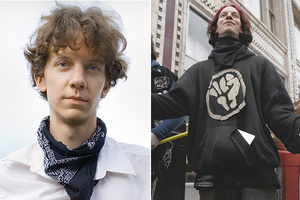 Jeremy Hammond, the infamous Anonymous hacktivist that pleaded guilty to hacking into private intelligence firm Stratfor and then releasing millions of private emails,
has been sentenced to ten years in prison
for his crime.
In addition, Hammond will see another three years of supervised release.

The hacktivist pleaded guilty to one count under the Computer Fraud and Abuse Act (CFAA), and was sentenced to the maximum time of ten years.

Calling the extremely lengthy prison sentence a "vengeful, spiteful act," Hammond says the government made an example of him to stop the rise of political-based hacking.

Speaking of his prosecutors, Hammond says "they have made it clear they are trying to send a message to others who come after me. A lot of it is because they got slapped around, they were embarrassed by Anonymous and they feel that they need to save face."

During his time with Anonymous, Hammond often worked with Hector Xavier "Sabu" Monsegur, the leader of Lulzsec and also secretly an FBI informant. Sabu provided the targets, and Hammond and others did the dirty work. "It is kind of funny that here they are sentencing me for hacking Stratfor, but at the same time as I was doing that an FBI informant was suggesting to me foreign targets to hit. So you have to wonder how much they really care about protecting the security of websites."

Hammond has been in custody since 2012 for the attack that took place in 2011. Hammond has a long rap sheet for activism and other cybercrimes.