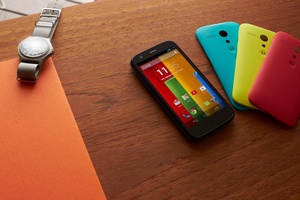 Earlier this week, Google took the wrapping off its Moto G device, an entry-level smartphone that the company hopes will help it dominate the low-cost market.
Google has priced that device at $179 off-contract and unlocked, making it easily one of the best deals for an
Android
phone, ever. Google says carrier partners will sell it for much less, with the potential for the device to sell for $49 or less.
For your money
, you get a 4.5-inch
720p
LCD TFT display, a quad-core Snapdragon 400 processor, 1GB
RAM
, 8GB internal storage and dual cameras, 1.3MP/5MP. On the design side, the Moto G looks just like its more powerful and expensive brother, the Moto X with some minor cosmetic differences.
You cannot use the Moto Maker customization site for the Moto G, but the backplate is removable and blue, teal, red, yellow, purple, white, and black covers are available at launch. Additionally, there are rugged versions and flip-style portfolio covers. Although you can take off the cover, the battery is non-removable.
The Moto G will start with Android
4.3
, but KitKat will be rolled out by December. The Moto G was not given access to Moto X's software gestures, like Active Notifications, Quick
Capture
, and Touchless Control, due to its lack of the Moto X's specialized CPU/GPU.