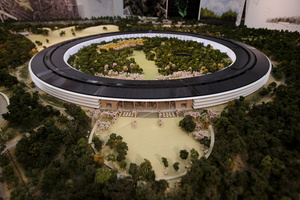 In October,
Apple
CEO Tim Cook took to Twitter to celebrate the approval of Apple's new 'spaceship' campus by the Cupertino City Council.
After that approval, the council needed one more approval vote (mainly a formality) and as of this morning, the campus has received its final approval.
Construction is slated to begin this year as Apple demolishes the current
HP
office buildings that stand at the site.
As part of the approval, Apple will begin a 20-year-long development agreement with Cupertino and increase the annual taxes it pays to the city. Last year, the council refunded 50 percent of the taxes Apple paid, $12.7 million, and moving forward that figure will be 35 percent.
Apple has dubbed the building "Campus 2," and it is almost one mile in circumference with 3.1 million square feet. The location will house an Office, Research and Development Building, a 1,000 seat Corporate Auditorium, a Corporate Fitness Center, 300,000 feet of Research Facilities, a Central Plant, a 150-acre interior courtyard and be home to 12,000 employees.