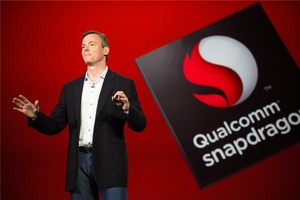 Qualcomm unveiled a new set of chips today, including the Snapdragon 805 aimed at mobile devices and UltraHD streaming.
The quad-core processor will "deliver the highest-quality mobile video, imaging, and graphics experiences" and the company confirms it is the best performing chip to date. The Snapdragon 805 includes the Adreno 420 graphics processor, "with up to 40 percent more graphics processing power" than current Adreno 330 chips. The chip can be clocked up to 2.5 GHz per core. Furthermore, it's "able to stream more video content at higher quality using less power and it allows for sharper, higher
resolution
photos in low light and advanced post-processing features."
Additionally, the company also unveiled its Gobi 9x35 fourth-generation 4G
LTE
modem, and a new RF transceiver chip, the WTR3925. Both of these wildly improved chips display
"significant improvements in performance, power consumption, and printed circuit board area requirements."
The Gobi 9x35 used 20nm dye, the smallest yet, allowing for even thinner and lighter devices moving forward.
"Using a smartphone or tablet powered by Snapdragon 805 processor is like having an UltraHD home theater in your pocket, with 4K video, imaging, and graphics, all built for mobile,"
Murthy Renduchintala, executive vice president of Qualcomm Technologies, said in a
press release
.
"Coupled with our industry leading Gobi LTE modems and RF transceivers, streaming and watching content at 4K resolution will finally be possible."