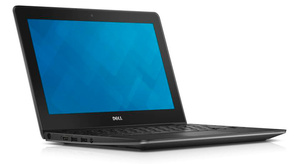 Dell
has
unveiled
their first ChromeOS device today, the
Chromebook
11.
The device is aimed at teachers and students, and features an 11.6-inch display while weighing just 2.9 pounds for easier portability.
Under the hood is a 1.4GHz Celeron processor and small 16GB SSD, and Dell is including a Wyse PocketCloud app for easier sharing in the cloud. There will be two models, one with 2GB
RAM
and the other with double, with the 2GB model expected to be aimed at the schools that may need to cut costs.
Most importantly, Dell promises 10-hour battery life, which would make it easily the best Chromebook available for longevity.
The device will go on sale in January with an expected price under $300.