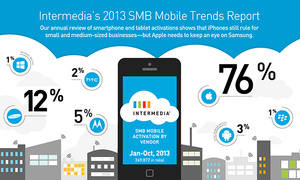 According to the SMB email management company Intermedia,
Apple
ruled small and medium-sized business activations for 2013.
The company says over 190,000 iPhones and iPads were activated on its network for the period ended October 31st, beating out
Samsung
at the number two spot with just 29,000 activations.
Posting the figures
in its annual "2013 Small + Medium Business Mobile Trends Report," the company says Apple accounted for 76 percent of all activations so far for 2013. Intermedia is one of the world's largest "third-party providers of hosted Exchange, delivering integrated email, calendars, contacts and other business tools to nearly 700,000 business users."
Motorola
was far down in third at 13,800 activations for the same period, and
Microsoft
Windows Phones saw the largest growth at 93 percent, but the baseline figure was tiny.
Overall, the total SMB mobile market continues to expand, with activations increasing from 88,680 in 2011, to 217,050 in 2012 and 249,872 devices so far in 2013.