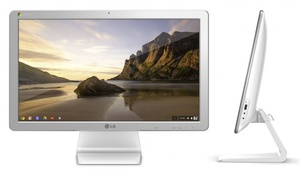 LG
has announced they will be introducing an all-in-one based on Google's
Chrome OS
operating system.
The company will unveil the computer at the upcoming
CES
event next month.
Dubbed the "Chromebase," LG has included a 21.5-inch
1080p
IPS display and will sell with a full keyboard, mouse and other accessories, but can also be used independently.
Perhaps most notably is that the computer runs on Chrome OS, Google's operating system which for the most part requires an Internet connection as offline function is minimal.
"Simple to operate for all types of users, the award-winning LG Chromebase computer represents the successful combination of simplicity, power and greatdesign,"
said Hyoung-sei Park, head of the IT Business Division at LG Electronics.
"LG Chromebase is the wave of the future for desktops, expected to be widely adopted not only at home, but especially in schools, hotels, call centers and other business settings."
There will be much more
details
available next month.