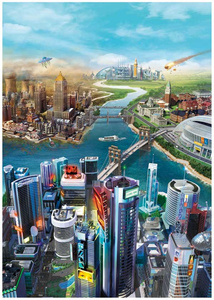 SimCity players who were bugged about the requirement to keep a constant-on Internet connection to play single player games will be happy to hear that will soon change.
The upcoming Update 10 will make it possible to play SimCity offline, it has been announced. "When we launch it, all of your previously downloaded content will be available to you anytime, anywhere, without the need for an internet connection," said Patrick Buechner, General Manager of the Maxis Emeryville studio.

"We are in the late phases of wrapping up its development and while we want to get it into your hands as soon as possible, our priority is to make sure that it's as polished as possible before we release it."

Your saved games in Single Player Mode are stored locally, so you can save and load to your heart's content.

Buechner noted that the update is also good news for the community of Modders.

"They can now make modifications to the game and its components without compromising the integrity of the Online game," he said.

The launch of SimCity last year was marred by server problems that made playing the game impossible for many players.