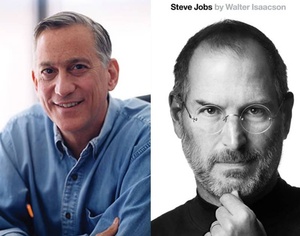 According to Walter Isaacson, the author of the "Steve Jobs" biography, Google has unseated
Apple
as the most innovative company in the world right now.
Speaking to CNBC, Isaacson says Google buying Nest Labs was a much bigger deal than Apple beginning to sell iPhones through China Mobile. Of course, the Apple deal will be great for the company's bottom line, he acknowledged, but the Nest buy shows the
"amazingly strong integrated strategy that Google has to connect all of our devices, all of our lives, from our car, to our navigation system, to how our garage doors are going to open."
While Apple has not really introduced anything new in quite some time with the exception of the TouchID fingerprint scanning of the iPhone 5S, Google has quietly (and not so quietly) been working on robots, self-driving cars, Google Glass and now, smart hubs for the home through Nest.
Isaacson also noted that grabbing Nest CEO Tony Fadell is a huge part of the deal for Google.
"Fadell was one of the team that created the iPod. He was very deep into the Apple culture ... when Apple was so innovative,"
says the author.
Apple is widely expected to have an interesting 2014, as CEO Tim Cook has teased multiple times. Isaacson, channeling Steve Jobs, says the former CEO
"would have wanted as the next disruptive thing to either have wearable-like watches or TV, an easy TV that you can walk into the room and say put on 'Squawk Box' ... or disrupt the digital camera industry or disrupt textbooks."
"We ought to see in 2014, Apple do something huge,"
Isaacson
added
.