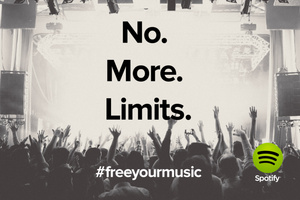 Spotify
has removed all playback limitations on their free, ad-supported versions for all countries.
Until this week, web users who did not pay for premium versions of the service got six months of unlimited listening but were then limited (dependent on country) to as low as 2.5 hours per week.
The
streaming
service continues to be more accessible to users on all platforms. Last month, Spotify launched a free, ad-supported service for tablets. Mobile versions had previously been $10 a month but the new service is limited to shuffling (just like Pandora except that you can hear more of the artist you search for) rather than a full on-demand offering.
Spotify may have
dropped the limit
as the industry gets more and more competitive. Beats recently launched a new rival service, and Google and
Apple
each have their own, as well.