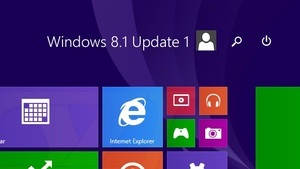 Leaked screenshots of the upcoming Windows 8.1 Update 1 seems to suggest the updated operating system will be available starting in March.
One
source
claims that
Microsoft
is aiming for a March 11th release date, the date of its normal monthly security patches.
Microsoft's BUILD conference is in April, so that timeframe had been expected for 8.1 U1, but it appears it may be a smaller update.
The new update is set to improve the OS for mouse/keyboard users and low-cost tablet owners alike. Search and Shut Down/Power options will now be more easily accessible, pinned taskbar apps will get previews, Metro apps will get close and minimize options just like regular apps, and right clicking on Metro apps will give you a full mouse-friendly context bar if you are not using a touch interface.
If these updates are accurate, Microsoft may finally win back the users it has alienated since launching Windows 8.
(Images via
Paul Thurrott
)