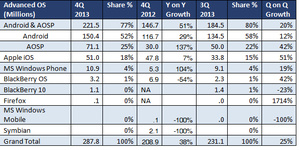 A new and interesting report from ABI Research should have Google on watch as
Android
continues to dominate global smartphone sales.
The firm claims that Google may be "losing control of the Android ecosystem" even as the operating system is now on anywhere between 76-80 percent of all new device shipments depending on whose data you follow. Many of the Android variants that are available on phones in Asia do not include Google apps and services, keeping ad-based revenue away from the search giant.
Of the 280 million smartphones shipped in the Q4 2013, 77 percent of them were Android-based, but only 150.4 million included Google apps and services, with the other 71.1 million running Android Open Source Project (AOSP)
ROMS
and variants.
The trend appears to be against Google in this respect. In 2012, 146.7 million Android devices were shipped and 116.7 million smartphones had Google apps and services.
"The growth of AOSP is significant for Android's owner Google, because AOSP does not offer Google's services (due to their unavailability in China), impacting Google's ability to monetize the Android ecosystem,"
ABI Research senior practice director Nick Spencer
concluded
.