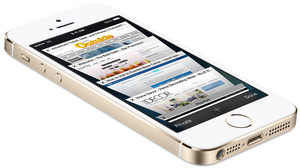 California lawmakers will propose mandating that all smartphones and tablets sold in the state from next year come equipped with a 'Kill Switch' that can render them useless if stolen.
State Sen.
Mark Leno
and other lawmakers said they will introduce legislation proposing the requirement on all such mobile devices sold in the state, with the vocal support of Los Angeles City Mayor
Eric Garcetti
and Police Chief
Charlie Beck
.
The proposed requirement, intended to tackle a growing problem of smartphone robberies, would go into effect from January 1, 2015 onwards.
Apple's iOS 7 operating system introduced some anti-theft with
Activation Lock
, if enabled by the user. Coupled with
Find my iPhone
, Apple has taken steps against the problem largely in response to calls from lawmakers and law enforcement officials across the U.S. and elsewhere. Apps are also available for Android devices.
By making a stolen device an inoperable useless brick, you clearly remove its resale value, and the long-term hope is that it will remove the incentive to steal mobile devices altogether.
A growing problem
According to a report from the
LA Times
, almost a third of all robberies in the United States are now related to mobile devices. In San Francisco, more than half of all robberies involve mobile devices.
That is according to San Francisco District Attorney
George Gascon
, who believes it is time to utilize deterrent technology.
"The wireless industry must take action to end the victimization of its customers,"
he said.
Gascon formed a coalition with New York Attorney General
Eric Schneiderman
last year to address the growing problem, which has been dubbed
"apple picking."
Given the size of the market in California for mobile devices, enforcing a Kill Switch mandate on products sold in the state would probably result in it becoming a standard feature in mobile devices sold throughout the United States.
Some industry insiders have questioned the need for a government mandate, pointing out that some of these features are already coming along without one, but manufacturers have also been accused at times of dragging their feet and potentially profiting from victims of crime having to buy a new device following a theft.