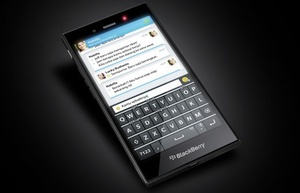 BlackBerry has launched a new, sub-$200 smartphone aimed at emerging markets.
The device is the first in the company's partnership with Foxconn in which Foxconn controls inventory and development, thus playing it safe.
Dubbed the "
Z3
," the phone will go on sale in Indonesia in April.
CEO John Chen says "it's a very attractive phone," and that
"we have a plan for expanding that phone in different parts of Southeast Asia, and there's a plan to go global with it sometime in the future, before I die."
Adds
the CEO:
"We are excited to introduce the new BlackBerry Z3, the first smartphone to emerge from our strategic partnership with Foxconn, which was announced in mid-December, 2013. The BlackBerry Z3 embodies all that BlackBerry 10 offers, with its exceptional productivity features and reliable communications, in a stylish, all-touch design made affordable for customers in Indonesia."
The device has a 5 inch display and will run BlackBerry 10.2.1.