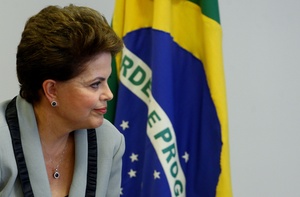 The European Union and Brazil have agreed this week to create a massive undersea communications cable between Lisbon, Portugal and Fortaleza, Brazil that will help the nations avoid spying from the U.S.
Brazilian President Dilma Rousseff says the cable will "guarantee the neutrality," and Rousseff has been very public with her desires to keep the country's Internet free from U.S. spying. The cable will cost $185 million.
"We have to respect privacy, human rights and the sovereignty of nations. We don't want businesses to be spied upon,"
Rousseff
said
during the press conference.
"The Internet is one of the best things man has ever invented. So we agreed for the need to guarantee ... the neutrality of the network, a democratic area where we can protect freedom of expression."
It was revealed last year that the NSA had been spying on the Brazilian President's email and phone calls. Brazil uses U.S. undersea cables for its communications to Europe but will now use their own. The current EU to Brazil cable can only support voice transmission.
U.S. President Obama has banned spying on leaders of allied nations, but following the news of the spying on Rousseff and Germany's Angela Merkel, trust has been shaky at best.