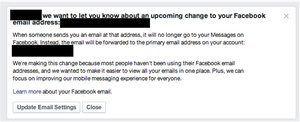 Facebook has announced it will be discontinuing its email service, @facebook.com, and that all emails will be forwarded to your primary email on file.
If you do not have a primary email on file, you will no longer receive @facebook emails, and you can also turn off forwarding if you don't want the messages passed on.
Why the retirement?
"Most people have not been using their @facebook.com email address,"
says
the company.
Facebook launched the service in 2010, but it lacked basic features like subject lines, CC/BCCs and never caught on with the community.
In 2012, the company was criticized for making only the @facebook email visible, making many believe the social media giant was playing favorites with their own service.