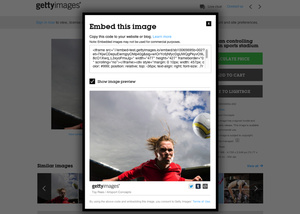 Getty Images, with over a hundred years of photography, has made their previously watermarked images available to all.
The company is dumping the watermark for most of its collection, as part of a broad embedding program that will include the image with a footer at the bottom of the picture with a credit and a link to the original licensing page.
While it will still be simple to take the un-watermarked image by screenshotting it, Getty says the images were already everywhere.
"Look, if you want to get a Getty image today, you can find it without a watermark very simply,"
says
Craig Peters of Getty Images.
"The way you do that is you go to one of our customer sites and you right-click. Or you go to Google Image search or Bing Image Search and you get it there. And that's what's happening... Our content was everywhere already."
Getty has made their embeds social media friendly, with native code for Twitter and Tumblr along with standard WordPress embed code. Getty can build revenue from the new code by potentially mining data or adding ads, although it will do neither at launch. Regardless, they will control the images, which is a step up from the unlicensed versions being available everywhere.