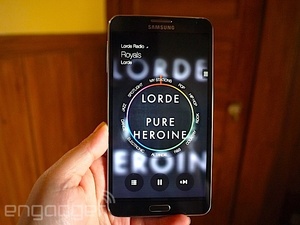 Samsung
has introduced a new Internet radio service for its own products, "Milk Music."
Exclusive to Samsung phones and tablets, Milk Music is completely free to download and free of ads.
As of this week, the service only works on the Galaxy S3, the
Galaxy S4
, the Note 2, the Note 3 and most S4 variants including the Active and the Mini. Of course, it will also work with the newly unveiled Galaxy S5.
Milk Music is powered by Slacker radio, and includes 200 genre stations and has over 13 million songs in total. Samsung's partnership with the company means they did not have to secure new licensing deals with the labels.
Samsung will deliver exclusives and other "first listens," as well, through its "Spotlight" section. The interface of the service has an aesthetically pleasing dial with genres, Spotlight, and a history of the last 500 songs you have listened to.
The app is available through Google Play now if you own one of the aforementioned devices and it is U.S.-only for the time being.
(Pictures via
Engadget
)