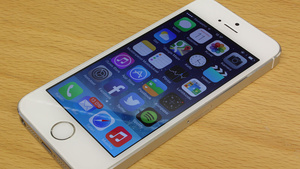 Walmart has dropped the price of the iPhone 5S to new lows, pricing the high-end device at $119 with contract.
The phone retails for $200 with contract, and the current promotion beats out Best Buy's ongoing $50 price cut for the device.
In addition, you can get an even lower price by trading in older gadgets for Walmart credit (via gift cards). The retailer accepts tablets, smartphones and even video games.
If you prefer the plastic iPhone 5C and its nearly two-year old specs,
you can get the device for $29
with contract, one of the better deals out there, as well.
The iPhone 5S introduced a fingerprint sensor (Touch ID) and 64-bit processing and remains a hot seller for
Apple
.