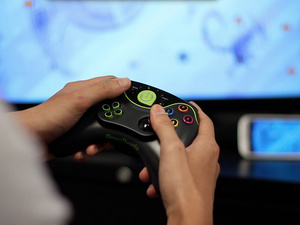 Google has acquired Green Throttle Games, perhaps signaling that a true Google
Android
set-top box
may be on the way with gaming foundations.
The company used to make its
Atlas controller
for Android devices, before shuttering four months ago. Google has picked up the technology and former employees (including founders) for an undisclosed price.
Atlas controllers needed to be synced to the company's Atlas Arena app, which was removed from the Google Play Store late last year, making the hardware effectively useless.
Sources claim
Google purchased the company to enhance the Bluetooth capabilities of its own upcoming set-top box and controller, one that has been oft-rumored but never confirmed.
Green Throttle's hardware woes mixed with Ouya shuttering its hardware business and moving towards software and services only likely has marked the death of the independent gaming console market, and the beginning of the battle of titans including Amazon,
Apple
, Google and possibly
Microsoft
.