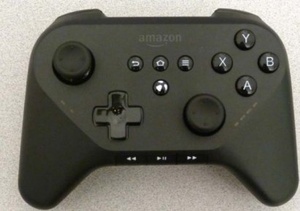 According to a new filing with an overseas regulatory agency (like the U.S.' FCC), it appears that Amazon's oft-rumored
set-top box
will include a Bluetooth gaming controller.
The media
streaming
device was set for a fall launch last year, but was met with delays. The new device could launch as soon as next month,
if rumors prove to be accurate
.
Netflix and Hulu Plus have already been confirmed for the device, as has a Kindle-ized version of
Android
. There has always been an expectation that gaming would be supported right out of the gate, given the hundreds of thousands of games available for Android.
The wireless Bluetooth controller will include shoulder buttons, triggers, dual analog controls and media playback controls including play/pause and rewind/fast forward.
An LED array will indicate battery levels and also whether you are connected to Bluetooth.