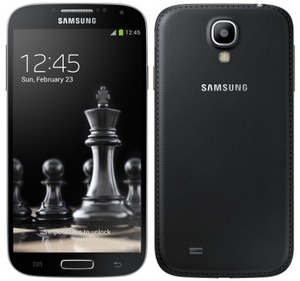 Samsung
has aimed high for the rich and/or gullible, launching their "Black Edition"
Galaxy S4
in the UK for a whopping £499.
The company first confirmed the device last month, but did not disclose which markets would see it.
Available now exclusively in the UK through Phones4U
, the unlocked unit will sell at a massive premium (about $825 USD) compared to the standard S4, despite having the same exact specs. The S4 sells, on average, for £325.80 ($540 USD) in the region.
Having the same internal specs, the Black Edition is different in that it has a black faux leather back cover, black accessories, and exclusive wallpapers and music tracks pre-installed.
The device goes on sale on April 11th.