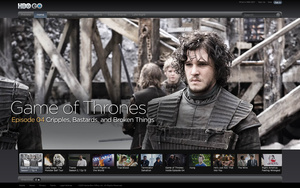 As the fourth season of Game of Thrones kicked off on Sunday night, HBO Go crashed and burned under the demand from HBO subscribers.
HBO
is perfectly entitled to guard its blockbusters close to its chest while web streaming services fight over content licensing and make their own programming, but if it insists on limiting
Game of Throne
's web availability to its own HBO Go service, at the very least make sure it can handle the demand.
After the premiere of the fourth season of Games of Thrones aired last night, the demand to see it through HBO Go hit the roof, then blew the roof off altogether. HBO Go acknowledged the trouble it was having in a tweet.
Looks like there's trouble in the realm. Apologies for the inconvenience. We'll be providing updates, so please stay tuned. #GameofThrones

-- HBO GO (@HBOGO) April 7, 2014
It then went on to remind fans that Game of Thrones will be available on HBO On Demand with some cable providers, and that it will air again on HBO at 11PM EST. After a few hours, it announced that service was restored.
Game of Thrones is the most pirated TV show out there, and incidents like this probably don't help. It is ironic that while subscribers sat on their hands waiting for HBO Go to get it together, pirates were torrenting the premiere by the thousands without issue. Of course, Game of Thrones may only be the most pirated TV show at the moment precisely because HBO guards it so closely and keeps it away from popular streaming services.