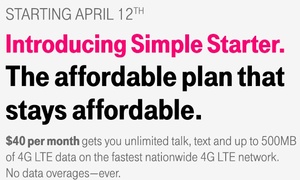 T-Mobile, in their ongoing efforts to turnaround the U.S. carrier market, has offered a new plan for budget-conscious consumers.
The new "Simple
Starter
" plan offers unlimited text, talk and 500MB of 2G/3G/4G data for just $40 per month. The data is a strong cap, unlike T-Mobile's other plans which offer unlimited data but the speeds are throttled to 2G after the stated amount.
If you reach 500MB, you will be prompted to purchase additional data via a day or week pass, but you will not be able to use any more mobile data.
Besides the cap, there are a few more limitations, as well. The Simple Starter cannot be added to family plans, and you will not have access to T-Mobile's new, free global roaming and international texting. You can, however, use the Jump program for quicker handset upgrades, and the plan also qualifies for zero down interest-free financing like T-Mobile's other plans.