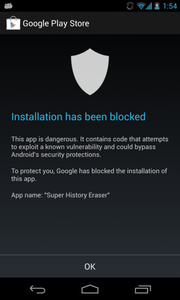 Google is making installing apps on your
Android
device a bit more secure by offering malware scans during installation for apps installed from outside of the Google Play Store.
Moving forward, the service will also continuously scan to ensure that all apps are "behaving in a safe manner, even after installation."
Chrome users will be familiar with continuous app checks, as their Chrome-based apps use the same scans from Google.
Google's current "Verify Apps" service has been used over 4 billion times, says the company and only 0.18 percent of installations occurred after seeing the warning, making them very effective.
Of course, you are not likely to ever get these warnings if you download directly from the Google Play Store, which accounts for only 0.1 percent of all malware. Most of the malicious apps come from third-party stores or from pirated downloads.
Source:
TechCrunch