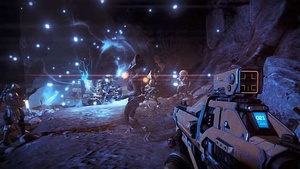 Developer Bungie has confirmed that the upcoming blockbuster game Destiny is 'close to shipping' even though the veteran composer Marty O'Donnell was recently fired from the company.
O'Donnell was the man behind the soundtrack for the Halo series, and was well known by fans and in the industry. Bungie COO Pete Parsons says his music will remain in the game and the game is "close to shipping."
"I think the Bungie fanbase is going to look forward to hearing Marty's music, Mike Salvatori's music, C. Paul's music and Paul McCartney's music in the game,"
Parsons added.
"That's going to be exciting for people. It's going to be a great, fantastic experience."
Most of the game is already completed, and there should be no delay for the game's September release date.
"I believe people will be transported not just by the activities and the stories within the Destiny universe but by the sights and the wonderful sounds and music,"
Parsons concluded.
"We have a fantastic team. We're pretty close to shipping. There's a lot of polish left to do, lots of tweaking and tuning, but a lot is already complete."
Source:
Eurogamer