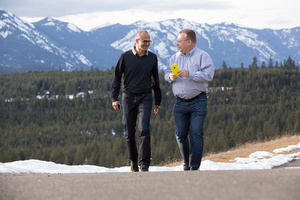 Satya Nadella welcomes the Nokia Devices and Services business to the Microsoft family as the multi-billion deal announced in September 2013 is completed.
Nokia shareholders had previously given the nod of approval to the deal, and regulatory bodies around the world also signed off on it. Stephen Elop, who served as President and CEO of Nokia, is the executive vice president of Microsoft Devices Group, overseeing an expanded devices business that includes Lumia smartphones and tablets, Nokia mobile phones, Xbox hardware, Surface, Perceptive Pixel (PPI) products, and accessories.

"Today we welcome the Nokia Devices and Services business to our family. The mobile capabilities and assets they bring will advance our transformation," said Microsoft CEO Satya Nadella.

"Together with our partners, we remain focused on delivering innovation more rapidly in our mobile-first, cloud-first world."

As announced previously, Microsoft will not acquire the factory in Masan, South Korea, and the factory in Chennai, India, will stay with Nokia due to the tax liens on Nokia's assets in India that prevent transfer.

Microsoft will continue to provide support for feature phones, the Asha family, and the Nokia X family of devices, announced at the Mobile World Congress in February.