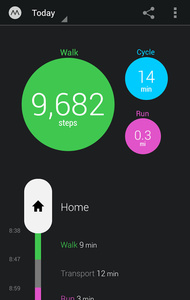 Facebook has acquired the popular Moves fitness app for iOS and Android, according to developer ProtoGeo Oy.
Moves tracks your physical activity throughout the day, telling you how many steps you have taken, how many minutes you cycled for and how far you ran, and so forth. It is intended to offer a clean activity diary, and has been downloaded over four million time.

"We're joining Facebook's talented team to work on building and improving their products and services with a shared mission of supporting simple, efficient tools for more than a billion people," a blog post on the Moves app website reads.

It promises users that the Moves experience will not be changed and will continue to operate as a stand-along app.

As of now, there are no plans to change that stance of commingle data with Facebook.