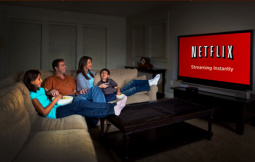 Netflix has announced that its
streaming
service will be available via the cable boxes of Atlantic Broadband, Grande Communications and RCN subscribers.
If you have a
TiVo
DVR
from one of those companies, starting on Monday you will be able to access the streaming service through your TV without the need for an extra device or downloaded app. Of course, you will need a Netflix subscription, as well, which is $7.99 per month currently and eventually will increase to $8.99.
The cable companies are small, but the deals mirror similar pacts Netflix has in Europe.
"Now, watching Netflix is as easy as changing the channel,"
said David Isenberg, chief marketing and strategy officer, Atlantic Broadband.
"The ever-expanding selection of titles on Netflix is a tremendous complement to Atlantic Broadband's existing portfolio of Live TV, HD channels and On Demand programming. Integrating the world's leading Internet TV network with the world's best DVR platform underscores our commitment to delivering customers what they want – instantly."
"The dynamics of this game-changing relationship are clear: more choices for the viewer via a simple, unified device,"
stated Jim Holanda, chief executive officer at RCN and Grande Communications.
"RCN and Grande Communications continue an unrelenting focus on delivering the best viewing experience for our customers through smart partnerships, innovation and superior Internet speeds of up to 110Mbps. The ability to seamlessly deliver new volumes of entertainment through industry leaders Netflix and TiVo is yet another way we are providing the best in customer convenience and satisfaction."