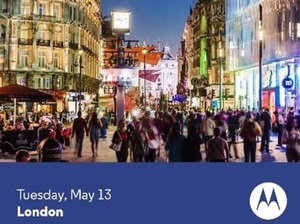 Motorola
has sent press invites for an event in London on May 13th where the company will unveil a new smartphone.
"Connect more people to the world's information and each other, and they can do great things,"
reads the invite.
"Introducing the next smartphone from Motorola to make these connections happen. Made to last. Priced for all."
The rumored device to be introduced is the Moto E, which will be second generation of the popular Moto G, which sells for $179 and features a spec sheet normally found outside of that price range. The Moto E reportedly has a 4.3-inch screen, a 1.2GHz dual-core processor, 1GB
RAM
, 4GB internal storage, a 5MP camera and a 1900mAh battery.
The low-end specs are enhanced by dual SIM capabilities and a digital TV tuner and near-stock
Android
4.4.
Source:
Pocket-Lint