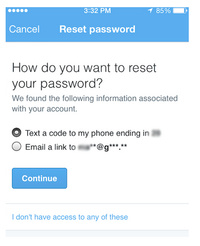 Twitter has finally added new security features including the ability to reset their passwords via SMS, and the addition of suspicious logins notifications.
Until now, Twitter has only allowed for a standard email password reset mechanism.
Of course, the enable the SMS resets, you will need to register your mobile number to the account. Twitter will send a six digit code that expires within 15 minutes, which you can input to login and create a new pass.
"The new process lets you choose the email address or phone number associated with your account where you'd like us to send your reset information. That way, whether you've recently changed your phone number, or are traveling with limited access to your devices, or had an old email address connected to your Twitter account, you've got options,"
Twitter said.
More importantly for your security, Twitter will be actively searching the location of the login, the device being used, and comparing it to your login history. If it is suspicious, the company will ask the intruder a secret question about the account and send an email notification to the real email on file.
Source:
ZDNet