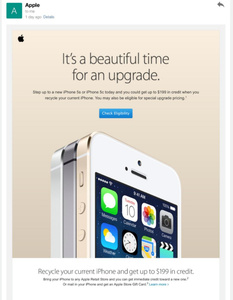 Apple's iPhone trade-in program for U.S. retail stores is now live.
Older iPhone owners (4 and 4S) will be able to get higher trade-in values if moving to an
iPhone 5
or 5S.
"It's a beautiful time for an upgrade. You may be eligible for upgrade pricing on a new iPhone. And if you bring in your old iPhone to be recycled, you could get credit toward a new one. Ask us for details,"
reads one notice.
An email we received, adds the following:
"Apple is getting employees to check customers' eligibility for an upgrade, inform them about the iPhone Reuse and Recycling program and push recently increased trade-in values for iPhone 4s and iPhone 4. Apple is now offering up to $99 for an iPhone 4 and $199 for an iPhone 4s. With that value put toward the purchase of a new iPhone 5s, Apple is promoting the deal as being able to upgrade to an iPhone 5s for as little as $0. iLounge first posted images of the memo about the new prices to Apple Store employees."
If you were looking to upgrade ahead of this year's iPhone 6, and have an old device laying around, it may be a good time to upgrade.
Source:
9to5Mac