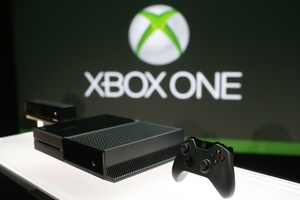 Xbox One will soon come without Kinect to compete in pricing with the PS4, but what does the decision mean for the future of Microsoft's console?
On the surface of it, offering a $100 cheaper Xbox One model to consumers is the right move for Microsoft. As it stands, Microsoft has shipped a couple of million less Xbox One units than Sony has confirmed sales for the PS4, which undoubtedly has Microsoft uneasy even at such an early stage.
A lower-cost console without Kinect will likely help Microsoft to claw back some ground on the PS4, but what does it mean for Microsoft's overall vision for Xbox One and the future of the console?
Bundling Kinect with Xbox One may have given Microsoft a $100 disadvantage in cost on the market, but it was the cost of Xbox One having something unique to it, and something that was present wherever there was an Xbox One console rather than an optional peripheral.
You just have to look at the initial reaction from developer Harmonix to Microsoft's announcement on Twitter to see that the news isn't necessarily good for all. Director of Publishing and PR at Harmonix,
John Drake
, sums it up in a few words.
Oh, great. Super great.

-- johntdrake (@johntdrake) May 13, 2014
Considering Harmonix is already developing Disney title
Fantasia: Music Evolved
for Xbox One, it has to be very disheartening news that not every Xbox One sold going forward is guaranteed to include Kinect. To be fair to Harmonix, the developer put out statements later that were more positive.
Pros and Cons for Consumers
For consumers, buying a console without Kinect also impacts gameplay to different degrees. Obviously, titles such as Xbox Fitness, Zumba Fitness, Fighter Within and Just Dance are entirely useless without Kinect, but there's also quite a lot more games that integrated Kinect to lesser degrees, like Assassin's Creed IV: Black Flag, Battlefield 4, FIFA 14, Need for Speed: Rivals, Dead Rising 3 and many more.
Those games are still playable with a regular controller of course.
There is a potential upside to the lack of Kinect in gameplay too though, as it frees up system resources. Microsoft Executive Yusuf Mehdi already told Polygon that the company is talking to publishers about reassigning system resources to games.
"We are in discussions with our game publishers about what we might do in this space and we will have more to talk about soon,"
he told
Polygon
.
Yet another compromise
It would be fair to describe the history of Xbox One since its unveiling as a history of compromising on the part of Microsoft. Not long after announcing the Xbox One, Microsoft started taking fire or its requirement to check in online at least once every 24 hours, and tying games to an Xbox One user raised questions about the ability to play pre-owned games.
In June last year, Microsoft reversed both policies. While it was praised for doing so, the compromise also meant that consumers lost something too in the form of Family Sharing and Disc-Free Play features. The former could not be changed sufficiently in time for launch but it could show up again in some form in the future.
The departure of Dom Mattrick from Microsoft to take up position of CEO at Zynga is being touted as the core reason for the changes made to Kinect - as well as further changes that remove the paywall on a bunch of multimedia/streaming apps on Xbox Live - but when it comes down to it, Microsoft is seemingly responding to slower sales than its main rival and negative feedback from users and the press to improve the bottom line.
It just seems that Microsoft set out to provide something unique to Xbox One, something that would be prevalent throughout this console generation and potentially give it more of an edge in a few years time even at an initial cost in terms of slow sales, but through constant compromising has ended up with something that more resembles the Xbox 360, just with a better and more responsive dashboard, better apps and better looking gameplay.