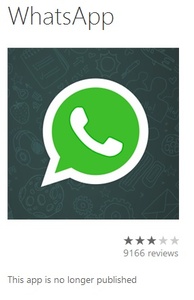 Facebook's $19 billion acquisition WhatsApp has disappeared from the Windows Phone Store, with the app now showing up as "no longer published."
The popular messaging company, which has over 500 million users, has not posted any comment since the app went offline for Windows Phone users.

There is speculation that the Windows Phone 8.1 version was just so buggy that it was taken down by the company while being updated to make sure the customer experience is not poor.

Facebook is still waiting final FCC approval for the deal, which was $19 billion at the time of signing but Facebook's stock has fallen significantly since then.