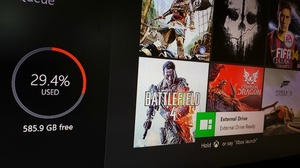 Earlier this year,
Microsoft
confirmed it was considering added support for external hard drives for the Xbox One.
Now, thanks to a new photo, it appears that day may be coming soon.
Coming via an Xbox One developer, an updated
dashboard
shows off the external drive support, including how much free space is still available (in this case 586
GB
). The developer only says "Soon...." so expect the update in the coming months.
The move will be welcomed by millions of Xbox One owners that had to rely on the console's non-removable 500GB internal drive.
Source:
Reddit