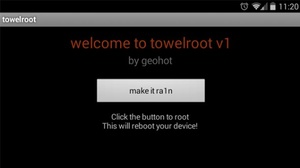 George Hotz (aka geohot) is back with a vengeance, releasing a new root tool that can be effectively used on all
Android
devices including the "unrootable"
Samsung Galaxy S5
for Verizon and AT&T.
Geohot became famous for being the first person to unlock the original iPhone, and later for creating the limera1n jailbreak tool for future versions of the iPhone. The hacker then gained notoriety when he exploited
OtherOS
for the
Sony
PlayStation 3, opening up the ability to add
homebrew
(and play pirated games), causing Sony to disable the feature entirely and sue the young hacker.
Gaining root access to an Android device allows users to make system-level changes, and gain great apps like Titanium Backup. You can also flash different
ROMs
, like
CyanogenMod
, if you just hate the bloat of your
Samsung
,
LG
or
HTC
device.
Dubbed "Towelroot," the new tool requires you to download and install an APK directly from Geohot's site, and run it. That's it. All devices running Android 4.4.2 or lower can use it, leaving out just a handful of phones including the
Nexus 5
and Moto X.
While the tool is great for users who want the easiest access to root, ever, it is unfortunate for Google since Towelroot is based on a
Linux
kernel vulnerability. Android 4.4.3 appears to have blocked at least part of the exploit, but it does not appear to be solved yet in its entirety. With over 97 percent of Android users on 4.4.2 (or older) Google may have to work a bit harder on the exploit.
If you want to try out Towelroot, get it here at the
official page
. Due to the nature of the APK, Afterdawn must recommend that you not download it from anywhere else.