The final chapter of the popular Batman: Arkham trilogy is set for release in February of next year, if Microsoft's own store is to be believed.
Developer Rocksteady showed off some incredibly impressive footage at this year's E3 event, while confirming that the game would need a few extra months for development.
Microsoft's U.S. Store has the release date leaked as February 24th, 2015, although that is certainly up for change in the next half of a year.
The timeframe matches what Batman voice actor, Kevin Conroy recently said:
"I have a massive game you may have heard of called Arkham Knight... It was supposed to come out in January, we've been working on it for a year and a half, it's still not done. So it's going to come out next January, but I know everyone is frustrated. The reason it's been delayed is because it's so awesome."
Check the insane E3 footage here: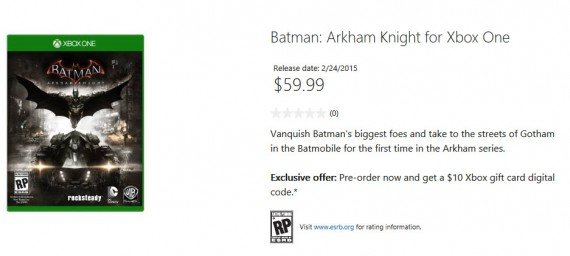 Source:
Rant