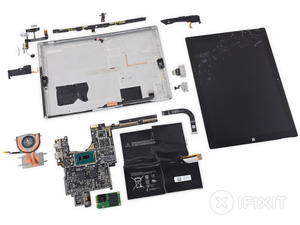 iFixit has completed their teardown of the
Microsoft
Surface Pro 3, and it scored just as poorly as its predecessors in terms of repairability.
On a scale of 1 to 10 (with 10 being easiest to repair or upgrade), the tablet scored a 1, meaning you better not break it or try to change any components. In fact, the only upgradeable part is the SSD, but getting to it will most likely destroy the device.
The site says that everything is held together by strong adhesives and non-traditional connectors that make it impossible to do anything.
Among the other conclusions made by iFixit, are that
"the display assembly consists of a fused glass panel and LCD, and is extremely difficult to remove and replace"
and
"the delicate and arduous opening procedure leaves no room for mistakes: one slip-up, and you'll be out a screen."
Read the full teardown here:
iFixit